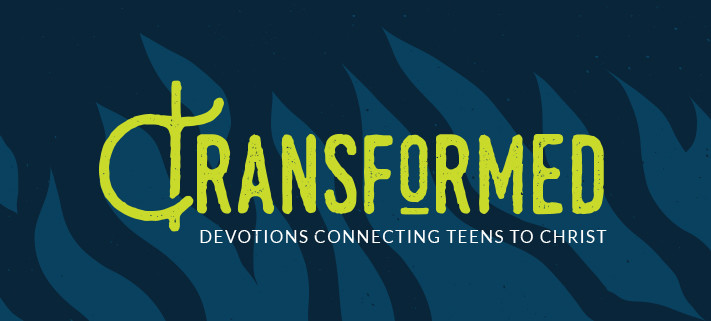 Transformed – teen devotion – October 23, 2022
One truth shared: Getting into heaven is totally dependent on God, not you.
A certain ruler asked him, "Good teacher, what must I do to inherit eternal life?"

"Why do you call me good?" Jesus answered. "No one is good—except God alone. You know the commandments: 'You shall not commit adultery, you shall not murder, you shall not steal, you shall not give false testimony, honor your father and mother."

"All these I have kept since I was a boy," he said.

When Jesus heard this, he said to him, "You still lack one thing. Sell everything you have and give to the poor, and you will have treasure in heaven. Then come, follow me."

When he heard this, he became very sad, because he was very wealthy. Jesus looked at him and said, "How hard it is for the rich to enter the kingdom of God! Indeed, it is easier for a camel to go through the eye of a needle than for someone who is rich to enter the kingdom of God."

Those who heard this asked, "Who then can be saved?"

Jesus replied, "What is impossible with man is possible with God."
Luke 18:18-27
Faith Demonstrated Through Total Dependence

An archery competition is a fairly simple concept. If you hit the target, you win the prize. The ruler wanted the prize of heaven, so he asked Jesus what the target was that he needed to hit in order to win the prize of heaven. Jesus' answer, obey the commandments. The ruler was thrilled. He truly believed he had hit the target and had earned the prize, but he was wrong. He hadn't obeyed all of the commandments. He loved money. The sad reality for the ruler was that he had missed. If you don't hit the target, you don't get the prize. If the prize is heaven, then not getting the prize is hell.
Everyone thinks that they can step up to the line and hit the target to get into heaven. But hitting the target doesn't just mean to be a good person or try hard. The target is perfection. The target is sinlessness. No one is capable of hitting that target including the ruler. Everyone must face the reality that they have missed the target and deserve hell. That is why when the crowd heard this they asked Jesus, "Who then can be saved?" Jesus answered, "No one… without God's help. But with God, you are saved."
God in his grace sent Jesus to step up to the line, and Jesus hit the target. He was perfect. Instead of enjoying the prize of heaven for himself, Jesus hands you the trophy. But why? You did nothing to deserve the prize of heaven. Your arrow didn't even come close to the target. Grace. Jesus loves you. The proof? He gave you his victory.
This is true for you yesterday, today, and forever. Knowing that you are guaranteed the prize of heaven gives you incredible confidence, peace, and hope. These things are better than popularity, relationships, money, basically everything this world has to offer. So hold on to them. Don't go thinking that there is still some expectation for you to hit the target. Just turn to Jesus and say, "Thank you for giving me your prize."
Prayer: Thank you Lord, for making it possible for me to receive your free gift of salvation. I am not worthy to receive such a gift, but I thank You in the name of Jesus Christ, my Lord. Amen.
---
Teen Devotions are brought to you by WELS Discipleship.
All Scripture quotations, unless otherwise indicated, are taken from the Holy Bible, New International Version®, NIV®. Copyright ©1973, 1978, 1984, 2011 by Biblica, Inc.™ Used by permission of Zondervan. All rights reserved worldwide.
https://wels.net/wp-content/uploads/2015/12/711x400-Devotions-TeenDevotions-1.jpg
400
711
lschulz
https://wels.net/wp-content/uploads/2021/03/WELSnet-Logo-2021.png
lschulz
2022-10-23 01:00:19
2022-10-21 15:36:59
Transformed – teen devotion – October 23, 2022