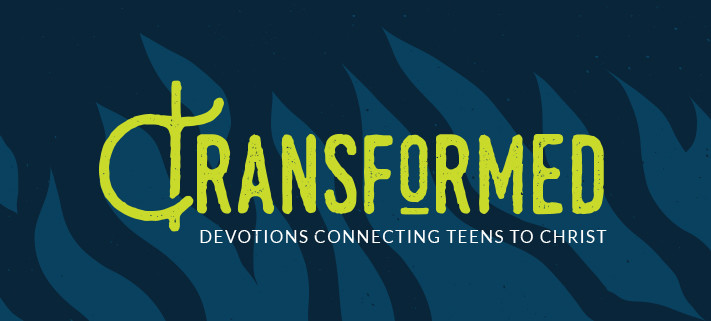 Transformed – teen devotion – November 19, 2023
One truth shared: The why behind our living and giving self-sacrificially is God's abundant love for us in Christ; it shapes how we see other members of the body of believers.
Therefore, I urge you, brothers and sisters, in view of God's mercy, to offer your bodies as a living sacrifice, holy and pleasing to God—this is your true and proper worship. Do not conform to the pattern of this world, but be transformed by the renewing of your mind. Then you will be able to test and approve what God's will is—his good, pleasing and perfect will.

For by the grace given me I say to every one of you: Do not think of yourself more highly than you ought, but rather think of yourself with sober judgment, in accordance with the faith God has distributed to each of you. For just as each of us has one body with many members, and these members do not all have the same function, so in Christ we, though many, form one body, and each member belongs to all the others. We have different gifts, according to the grace given to each of us. If your gift is prophesying, then prophesy in accordance with your faith; if it is serving, then serve; if it is teaching, then teach; if it is to encourage, then give encouragement; if it is giving, then give generously; if it is to lead, do it diligently; if it is to show mercy, do it cheerfully.
Romans 12:1-8
Remember your Membership
Do you know what an autoimmune disease is?
An autoimmune disease is when your body's natural defense system can't distinguish between your own cells and foreign cells. For example, Type 1 Diabetes is where your body's immune system attacks and destroys insulin-producing cells in your pancreas—meaning you'll need regular insulin shots to survive. Or take Multiple Sclerosis (MS), where your immune system attacks nerve cells, which results in cognitive difficulties, vision problems, fatigue, and loss of muscle coordination.
Chances are, you or someone you know struggles with an autoimmune disease. And they'll tell you how difficult life is—because their body isn't operating the way it's supposed to: simply put, the body starts attacking itself.
Sadly enough, Christians can suffer from autoimmune diseases, too. And I don't mean Type 1 Diabetes or MS. I mean when we use our words to tear other Christians down. It's when we hold grudges against fellow believers and withhold forgiveness. It's when we are jealous of the gifts other Christians have and are dissatisfied with the gifts God has given us. It's when we see our gifts as "better" or "more important" then the gifts of other Christians we know. When we start to conform to the self-centered patterns of this world, the body of believers suffers—and even wages war against itself.
So, what sets us free from the patterns of this world—and breaks down all barriers between us? What empowers us to defy the patterns of this world and stand out—and serve boldly, even self-sacrificially? What puts the patterns of this world to shame and inspires a greater kindness and a greater love within us? What reduces the patterns of this world to rubble and rallies people of all tribes and all generations behind a common, singular banner for a common, singular identity? To answer that, we need to go back to Romans 12:1, to the key operative phrase of that verse: "in view of God's mercy." The why behind our living and giving self-sacrificially is God's abundant love for us in Christ.
Want to hear something awesome? God doesn't need your time, talents, or treasures. They were never initially yours to begin with: God gifted them to you. Our God's existence doesn't depend on how much money we give to church—as if he needs to eat to survive; he's the God who daily puts bread on your plate, because you need him to survive. He's a God who doesn't need you—yet he, in love, would relentlessly pursue you because you need him! He would rather have a heaven with you than without you. He's the God who gives us his best—even when we give him our worst. He's the God who, to buy us eternal residence in the mansions of heaven, would shed his perfect blood on a cross, to win us forgiveness and an identity that will never perish, spoil, or fade: in Christ, you are God's family!
But not just you! You, in Christ, have been grafted into a diverse body of other Christians, too. And in the time between now and eternity, you need them—just as they need you. After all, our God doesn't just give to us; our God gives through us. Dear Christian, remember that you are an invaluable member of a far greater body—a body that includes your Christian neighbor, too.
So, in view of God's amazing mercy, how might you uplift and encourage the body of believers today?
Prayer: Christ Jesus, I give thanks to you for graciously grafting me into your family. Thank you for the unique gifts and talents you've not only given me, but the gifts of those Christians around me. By your Spirit, help me to cherish them, to appreciate their gifts, and to help me use my gifts to help them, too. Amen.
---
Teen Devotions are brought to you by WELS Discipleship.
All Scripture quotations, unless otherwise indicated, are taken from the Holy Bible, New International Version®, NIV®. Copyright ©1973, 1978, 1984, 2011 by Biblica, Inc.™ Used by permission of Zondervan. All rights reserved worldwide.
https://wels.net/wp-content/uploads/2015/12/711x400-Devotions-TeenDevotions-1.jpg
400
711
lschulz
https://wels.net/wp-content/uploads/2021/03/WELSnet-Logo-2021.png
lschulz
2023-11-19 01:00:36
2023-11-07 15:42:46
Transformed – teen devotion – November 19, 2023