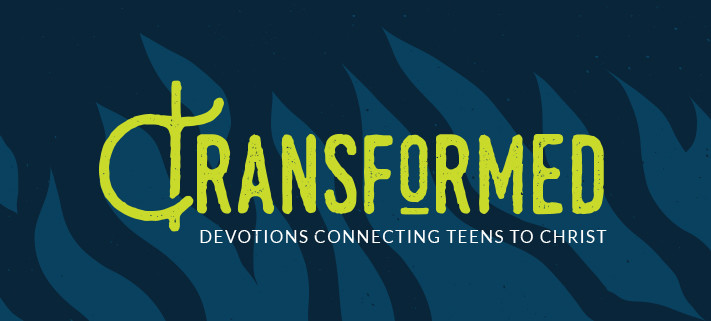 Transformed – teen devotion – June 19, 2022
One truth shared: The moment you can't see or understand God's direction for your life may be the very one God knows we need to grow in faith.
Soon afterward, Jesus went to a town called Nain, and his disciples and a large crowd went along with him. As he approached the town gate, a dead person was being carried out—the only son of his mother, and she was a widow. And a large crowd from the town was with her. When the Lord saw her, his heart went out to her and he said, "Don't cry."

Then he went up and touched the coffin they were carrying him on, and the bearers stood still. He said, "Young man, I say to you, get up!" The dead man sat up and began to talk, and Jesus gave him back to his mother.
Luke 7:11-15
"Young man, I say to you, GET UP!"

There's an old German word for certain feelings and the times you feel those feelings: Anfechtungen (take your time to say it—an-fech-tung-en). There are moments when you can clearly see God's divine direction for your life, but other times you can't find him. It's as if God is playing hide 'n seek so well that he's successfully hidden himself from you. That's Anfechtungen. Something rocked your world and assaulted everything you thought you were certain about. There's a little inner voice echoing, "Is God compassionate or cruel? At the moment, I don't know."
Hear out what you are about to read next: The next time you feel Anfechtungen, embrace it.
Anfechtungen was hanging in the air and in the hearts of today's Bible reading. It was a funeral procession. On the shoulders of six men is the reason for their grief: a cold body on a wicker stretcher. Cradled in the casket is the corpse of a young man. Such a sad sight. But even more heart-wrenching was the look on the face of the young man's mother heading the procession just behind the coffin. She recently walked the same road when she buried the body of her husband. Then, her son walked beside her. Now she walks alone. She's the one who'll have to go home later that night and sleep in an empty house. She's the one who'll sit at a table alone after making dinner for one and conversation with none. Death stole her family. Might she be saying to herself "What did I do to deserve this? Does God have it in for me?"
Then, she meets Jesus. When Jesus saw the mother, his heart broke for her. How shocked she must have been to hear him say, "Don't cry." Don't cry? Who would say that at a funeral?!
Only God can. Jesus said, "Young man, I say to you, get up!" People gasped as the dead stirred back to life. Cold, wooden fingers flexed. Gray-pale cheeks turned rosy again. The dead man sat up and began to talk. "What's going on here? Why am I here? What's this crowd about? Why am I all wrapped up in a bedsheet?"
Here we see what kind of God we have. We have a God who is so touched by our sorrow and our needs, he feels our hurt and is full of compassion. Like the young man we're all destined to die. Like the dead young man, we can do nothing to seek the Lord. The procession of life led by Jesus must find us and stop the procession of death. Jesus glared at the angel of death that hovered over the body of the boy. "Not this time. This boy is mine." Jesus has given us life. He rained on death's parade by pouring over us the waters of baptism and declared, "Not this time. This child is mine." Jesus has given us life.
This is what it means to have Jesus in your moments of Anfechtungen. Even as you experience a spiritual assault so vicious it is robbing you of comfort and personal peace, you still have Jesus. To have Jesus means to depend on him with all your heart no matter how you presently feel. Jesus really cares for you. His care is perfect and wise and always for eternal good.
When you don't know where else to go, may the mercy and power of God lead you to the one who now says, "I say to you, GET UP!"
Prayer: Dear Jesus, there is so much going on around me that brings me down. In those moments when I feel down and question your goodness, remind me how you stared down the power of death for me. In my down moments, may I trust in your power and be encouraged by your command to get up and live by your grace! Amen.
---
Teen Devotions are brought to you by WELS Discipleship.
All Scripture quotations, unless otherwise indicated, are taken from the Holy Bible, New International Version®, NIV®. Copyright ©1973, 1978, 1984, 2011 by Biblica, Inc.™ Used by permission of Zondervan. All rights reserved worldwide.
https://wels.net/wp-content/uploads/2015/12/711x400-Devotions-TeenDevotions-1.jpg
400
711
lschulz
https://wels.net/wp-content/uploads/2021/03/WELSnet-Logo-2021.png
lschulz
2022-06-19 01:00:05
2022-06-17 08:07:48
Transformed – teen devotion – June 19, 2022