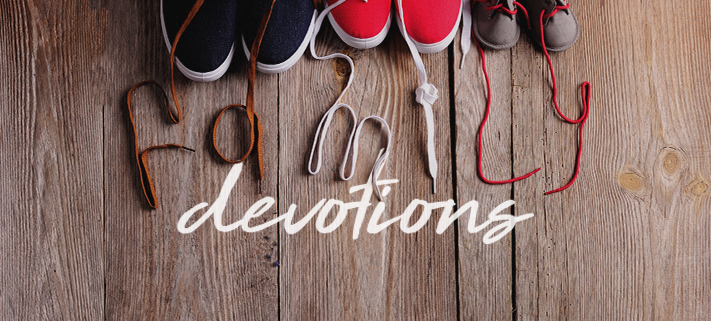 Read: Ruth 1:1-19
But Ruth replied, "Don't urge me to leave you or to turn back from you. Where you go I will go, and where you stay I will stay. Your people will be my people and your God my God. Where you die I will die, and there I will be buried. May the Lord deal with me, be it ever so severely, if even death separates you and me."
Ruth 1:16,17
Outward-Focused Love
In the name of the Father and of the Son and of the Holy Spirit. Amen.
What will I get done today? How early will I have to get up? How hard is it for me? How can I possibly do more? Have you ever said something like that when you're facing something new? The immediate response is focused inward and how events will impact your life.
Ruth had a life event that impacted her life. Her husband died. What a shock! Everything she knew and planned was changing. Ruth had much she needed to figure out. She also needed time to be sad. If anyone had a right to focus inward on herself, Ruth was that person.
Amazingly, this was not Ruth's reaction! Even as her world was completely changing all around her, she still focused outward on others—like her mother-in-law, Naomi. Ruth felt the pain of losing her husband. But she knew Naomi was mourning the loss of her son. She didn't want Naomi to be left without support or aid. Even though Naomi urged her to go back to her family, Ruth would not leave Naomi alone. Ruth had strong words as well. "Don't urge me to leave you or to turn back from you. Where you go I will go, and where you stay I will stay." Ruth was making a promise that she was going to care for Naomi and stay with her no matter what else the Lord had in store for them.
Then we see why Ruth had this outward focus. "Your people will be my people and your God my God." When Ruth was brought into Naomi's family, she learned of Naomi's God. Through this focused act of love by Naomi and her son, Ruth had the greatest love in her life. Ruth knew that she had everything she needed through God. With God's love shining through her, she could now focus away from herself and love Naomi.
Some people may say that what Ruth did was foolish. The world believes that a person needs to take care of himself first because no one else is going to take care of him. We know that this is love focused inward. Like Ruth, our love is different. We already have everything we will ever need because Jesus has given us eternal life. Having that in our hearts, may we reflect that outward love to others!
Closing Prayer:
Dear Heavenly Father, we give you glory for your amazing love that you shower down on us every moment. Please Lord, give us strength and courage to focus our love on others. Amen.

The questions below are to help families discuss this devotion. The questions are divided by age group as suggestions, but anyone could reflect on any of the questions as they desire.
Questions for Younger Children
What did Ruth say to Naomi that showed amazing love?
Name a way we can show love to others?
Questions for Elementary Age Children
How might Ruth have felt when Naomi commanded her to leave?
Why is remembering God's love for us through Jesus so important if we are going to show outward love to others?
Questions for Middle School and Above
Think about times you find it difficult to show love to others. Share what's getting in the way of it.
Think of at least one way you can put outward love into practice in the next few days. What's the occasion? Who is it with? How will you do it?


Family Devotions are brought to you by WELS Discipleship.
All Scripture quotations, unless otherwise indicated, are taken from the Holy Bible, New International Version®, NIV®. Copyright ©1973, 1978, 1984, 2011 by Biblica, Inc.™ Used by permission of Zondervan. All rights reserved worldwide.
https://wels.net/wp-content/uploads/2020/04/700x411-FamilyDevotions2.jpg
400
711
lschulz
https://wels.net/wp-content/uploads/2021/03/WELSnet-Logo-2021.png
lschulz
2022-07-11 04:00:28
2022-07-07 15:45:05
Outward-Focused Love – July 11, 2022