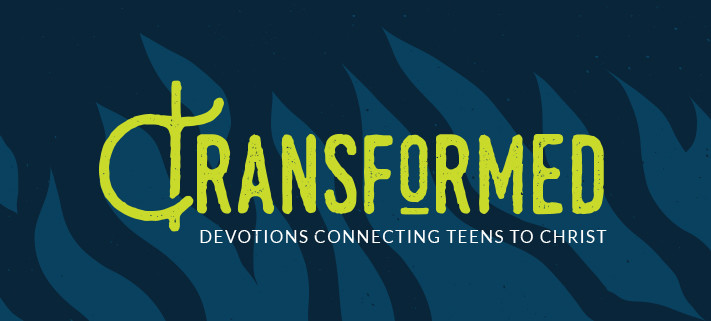 Transformed – teen devotion – April 2, 2023
One truth shared: A better King!
Rejoice greatly, Daughter Zion! Shout, Daughter Jerusalem! See, your king comes to you, righteous and victorious, lowly and riding on a donkey, on a colt, the foal of a donkey.
Zechariah 9:9
King
When it comes to your life, who is your "king"? I'm not talking about some royal ruler or political entity, but rather who or what do you turn to for comfort, for security, for peace, for hope? Most who are Christians would probably answer "God" or "Jesus" and rightly so. After all, the blessing of living life under the guidance and blessing of God is among the most basic of Christian teachings.
But, for as easy as it is to say that Jesus is the "king" in our lives, it's interesting to note how hard it can be to live according to that confession. There might be times when we live as though the king is someone or something other than God.
Maybe it's the quiet attitude that our own hard work and careful planning are what guarantee a smooth and successful life!
Maybe it's secular authorities: if we could just elect the better people and enact the perfect policies and advocate for the right causes—then life would be good!
Maybe it's human innovation and technology. Science and medicine seem to have the answers to everything!
And yet, for as many times as God brings amazing blessings into our lives through all of these things, we are served well by making sure they don't become the ultimate "king" so to speak, because they aren't always reliable! Problems arise that we didn't anticipate, the new group of political leaders struggles just as much as the previous one only in different ways, and there are plenty of challenges that science and medicine don't have the answers to.
Who is your king? Jesus is—and that makes all the difference.
Zechariah described King Jesus in prophecy using these words: "Rejoice greatly, daughter of Zion! Shout, daughter of Jerusalem! See, your king comes to you, righteous and having salvation, gentle and riding on a donkey, on a colt, the foal of a donkey." Appearances can be deceiving. Earthly kings usually aren't gentle, and they definitely don't ride donkeys. But for Jesus that's exactly the point. What does King Jesus bring? Exactly what you need. Righteousness. Salvation. Righteousness not found by human power but by the Savior's selfless sacrifice. Righteousness earned by a perfect payment for sin. Righteousness that brings salvation—first as Jesus rules the world already now through the lives and testimony of his people and later the fully realized salvation that God's people have in heaven!
What better king could there be? Live in that knowledge! Live knowing that no matter what kind of chaos or uncertainty life might bring your way, Jesus already defeated your greatest enemies, and satisfied your deepest spiritual need, guaranteeing that you share in his victory and are a citizen of his eternal kingdom!
Prayer: Dear Jesus our King, you rule the world in truth and grace, nations and kingdoms bow to your will and move at your command. Teach me to submit myself to your reign over my life. Protect me from my sinful desires that lead me to depend on myself and so many other things instead of you. Point me to your sacrifice for me and the many blessings you promise. Amen.
---
Teen Devotions are brought to you by WELS Discipleship.
All Scripture quotations, unless otherwise indicated, are taken from the Holy Bible, New International Version®, NIV®. Copyright ©1973, 1978, 1984, 2011 by Biblica, Inc.™ Used by permission of Zondervan. All rights reserved worldwide.
https://wels.net/wp-content/uploads/2015/12/711x400-Devotions-TeenDevotions-1.jpg
400
711
lschulz
https://wels.net/wp-content/uploads/2021/03/WELSnet-Logo-2021.png
lschulz
2023-04-02 01:00:55
2023-03-23 11:19:24
Transformed – teen devotion – April 2, 2023