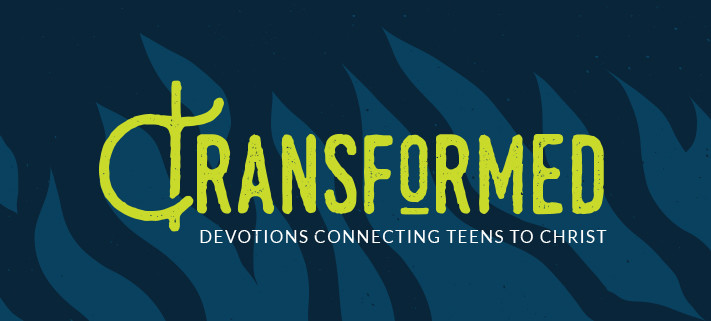 Transformed – teen devotion – March 5, 2023
One truth shared: The only one who can save you is Jesus.
No one has ever gone into heaven except the one who came from heaven—the Son of Man. Just as Moses lifted up the snake in the wilderness, so the Son of Man must be lifted up, that everyone who believes may have eternal life in him.
John 3:13-15
The Only One
You're not good enough. You're too young. You're too inexperienced. You don't know what life is really like—you should sit this one out and let those with more experience handle it! Isn't it frustrating when you hear that? You know full well there's value to experience, but doesn't hard work and persistence and the energy of youth count for something? Just let me try it! And when you do try, what if you fail? The pressure is on!
All of this is natural, and it's not unique to your younger years. It's human nature to try and take care of yourself, to long for independence and freedom… and that aspect of human nature extends beyond daily needs. It can creep into spiritual thinking as well. It's easy to repeat the biblical teaching: "I'm not perfect, I'm sinful and I need a Savior." But it's a lot harder to live in that reality—it's much easier to try and explain away our shortcomings rather than taking responsibility. Everyone around me says those words—it can't be that bad. It's just a picture on a phone—no one is actually getting hurt—it's not that big of a deal. Sure, I'm not perfect, but I go to church more often than not, and I'm generally a nice person. Doesn't that count for something?
Today's Bible reading shows us a man who likely had similar thoughts at times. This man's name was Nicodemus, and he'd been raised in the customs and way of life of God's Old Testament people. Sacrifices, festivals, fasting, a special diet, and so much more—he did it all, and then some! He was a member of the Pharisees—pious religious leaders, well respected among the people. Surely that counts for something!
Ahh, but Jesus knows better. What Nicodemus had done wasn't enough to please God. In the same way, what you and I do isn't enough to please God. It falls so far short it would be laughable if it weren't for the eternal consequence of hell. Notice the repeated words Jesus uses throughout this conversation: no one. No one can see the kingdom of God… no one… can enter the kingdom of God… no one… has gone into heaven. The best efforts of people fall short.
But there is an exception. No one, Jesus says, except the Son! Jesus can please God, and he did. What's more, he did it for you. In Jesus you are reborn as God's dearly loved child. God is pleased with you! In Jesus, you can have confidence in life even if other people have doubts, because it doesn't depend on you. You aren't what you make of yourself—you are what Jesus made you to be! A child of God!
Prayer: Dear Jesus, you have redeemed me and called me into your family. Teach me to rely on you and your work on my behalf instead of finding satisfaction in my own actions and the opinions of others. Lead me to live each day secure in the knowledge that I was reborn in the waters and promises of my baptism and my new identity as your dearly loved child. Amen.
---
Teen Devotions are brought to you by WELS Discipleship.
All Scripture quotations, unless otherwise indicated, are taken from the Holy Bible, New International Version®, NIV®. Copyright ©1973, 1978, 1984, 2011 by Biblica, Inc.™ Used by permission of Zondervan. All rights reserved worldwide.
https://wels.net/wp-content/uploads/2015/12/711x400-Devotions-TeenDevotions-1.jpg
400
711
lschulz
https://wels.net/wp-content/uploads/2021/03/WELSnet-Logo-2021.png
lschulz
2023-03-05 01:00:58
2023-03-03 13:59:33
Transformed – teen devotion – March 5, 2023