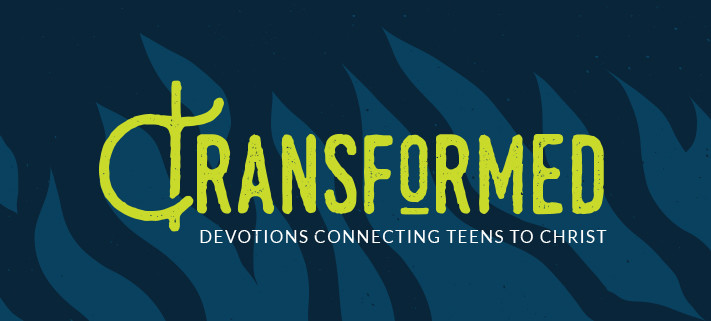 Transformed – teen devotion – September 4, 2022
Your Savior counted the cost to rescue you—and you were totally worth it.
Large crowds were traveling with Jesus, and turning to them he said: "If anyone comes to me and does not hate father and mother, wife and children, brothers and sisters—yes, even their own life—such a person cannot be my disciple. And whoever does not carry their cross and follow me cannot be my disciple.
Luke 14:25-27
Put down What You Love; Pick Up What You Loathe

That probably caught you off guard, didn't it? That Jesus would say you need to hate your father and mother to follow him? Or maybe, when you heard that, your first thought was, "One step ahead of you, Jesus! I already hate my parents!" Before you get ahead of yourself, consider two things. First, Jesus' list of loved ones you're called to "hate" also includes [spouse] and children, brothers and sisters—and yes, even [your] own life. Second, this is the same Jesus who calls us to love our worst enemies. So, what does Jesus mean when he says "hate"?
Jesus isn't saying you need to wish the worst of those closest to you. What he is saying is "If you want to come after me, I'm going to reorient your relationships." Jesus, as God, calls us to fear, love, and trust in him above all things—with all our heart, soul, strength, and mind. That is a love so great, all our other "loves" in our life look like hate by comparison.
Our love for our family and friends is incredibly great. So great, that our lives might completely revolve around them. Don't get me wrong: God intended our relationships with family and friends to be good relationships. The problem is when our good relationships become ultimate relationships. We look to our parents or others to give us what only God can. Don't believe me? Then why do we enter romantic relationships with ridiculous expectations that no sinful human being will ever be able to fulfill? Why do we hold our friends and family to incredibly high standards—standards we don't even meet?
At the very core of all this relational disorder, we find a love that is greater than our love for our friends and family. We find a love of self. And that love of self comes into direct conflict with Jesus' message about counting the cost to follow him. Following Jesus may cost you status or reputation. It may cost you popularity and acceptance. It might cost you relationships with friends and family. It will definitely come at a cost to our personal comfort. And the cost of following Jesus is non-negotiable—meaning we can't come at Jesus and say, "Lord, I will follow you, but only on my terms." Christian discipleship isn't broken down into categories of "casual Christians" and "Jesus freaks." There is no middle ground. It's all or nothing. And our sinful nature hates that. We may even think, "What kind of loving God would have me follow him down a path of self-denial that leads to suffering for him—even dying for him?"
The same God who walked a path of self-denial that inevitably led to him suffering and dying for us. When other religions will give you a list and tell you "Here's what you need to do to get right with God," Jesus says, "You couldn't do what needed to be done, so I did it for you." What we couldn't pay, the Son of God did. Jesus would "hate" his own life out of love for yours—because a restored relationship with you was a priority to him. Jesus has paid and paved our entry into heaven by his precious blood shed for us on the cross. That he rose from the dead reinforces the reality that our sins of disordered love have been objectively buried in his death and we, in Christ, are forgiven! That Jesus lives means our greatest relationship—our relationship with God—has been completely and eternally restored in Christ!
The world can't give what Christ alone has—because the world can't be what Christ alone is. In him we have peace with God. In him, our identity is as God's blood-bought, redeemed child. In him, our lives have renewed purpose and eternal significance. You carry your cross in the shadow of a Savior who already carried his cross perfectly for you. Why trade Jesus for anyone in this world? Your Savior counted the cost to rescue you—and you were totally worth it.
Prayer: Lord Jesus, you know the weight of the crosses we carry to follow you. You carried your cross perfectly for us. Give us strength and patience to carry crosses in your name—until the day you carry us home. Amen.
---
Teen Devotions are brought to you by WELS Discipleship.
All Scripture quotations, unless otherwise indicated, are taken from the Holy Bible, New International Version®, NIV®. Copyright ©1973, 1978, 1984, 2011 by Biblica, Inc.™ Used by permission of Zondervan. All rights reserved worldwide.
https://wels.net/wp-content/uploads/2015/12/711x400-Devotions-TeenDevotions-1.jpg
400
711
lschulz
https://wels.net/wp-content/uploads/2021/03/WELSnet-Logo-2021.png
lschulz
2022-09-04 01:00:11
2022-09-02 09:05:32
Transformed – teen devotion – September 4, 2022