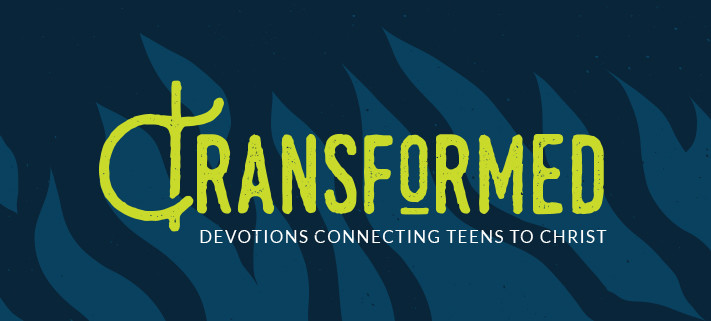 Transformed – teen devotion – August 28, 2022
Where you sit makes all the difference – and thanks to Jesus, we're sitting at his table.
One Sabbath, when Jesus went to eat in the house of a prominent Pharisee, he was being carefully watched.

When he noticed how the guests picked the places of honor at the table, he told them this parable: "When someone invites you to a wedding feast, do not take the place of honor, for a person more distinguished than you may have been invited. If so, the host who invited both of you will come and say to you, 'Give this person your seat.' Then, humiliated, you will have to take the least important place. But when you are invited, take the lowest place, so that when your host comes, he will say to you, 'Friend, move up to a better place.' Then you will be honored in the presence of all the other guests. For all those who exalt themselves will be humbled, and those who humble themselves will be exalted."

Then Jesus said to his host, "When you give a luncheon or dinner, do not invite your friends, your brothers or sisters, your relatives, or your rich neighbors; if you do, they may invite you back and so you will be repaid. But when you give a banquet, invite the poor, the crippled, the lame, the blind, and you will be blessed. Although they cannot repay you, you will be repaid at the resurrection of the righteous."
Luke 14:1, 7-14
The Humble Will Be Exalted; The Exalted Will Be Humbled

Where you sit makes all the difference. That's definitely the case when you're on a 16-hour international flight. Flying coach on a flight that long is brutal. Good luck trying to get comfortable. Those airbuses pack you on like sardines. You can't really recline your seat. Your knees are constantly digging into the row in front of you. If you don't get an aisle seat, good luck trying to get up and stretch or go to the bathroom. Even if you do get an aisle seat, good luck trying to sleep, because it seems like everyone on that plane is going to step on your foot walking up and down that aisle. Flying coach on a 16-hour international flight is brutal. Flying business class is a completely different story.
I was at the Mitchell International Airport in Milwaukee gearing up for one of those 16-hour flights. I had a layover in Chicago first. While we waited to board, I got to talking with a guy named Bill—who, turned out, was also a Christian. We pretty much talked all the way to Chicago. But before we parted ways, he asked for the flight number on my 16-hour trip. Then he made a phone call and upgraded my flight from economy to business! Can you believe it? A complementary glass of champagne as soon as you sit down and cake and ice cream for dessert. But what really makes business class awesome is the upgraded seat: a seat that completely reclines, a seat with padded armrests, a seat with all the legroom in the world. On a 16-hour flight, where you sit makes all the difference.
You get that impression—where you sit makes all the difference—in our story for today as we see and hear those guests selfishly fight over those coveted seats of honor at that Sabbath dinner party. And while we may not be fighting over chairs at parties, that same "me first" attitude beats in our hearts, too. It vies for the spotlight whenever it can. A "me first" attitude never listens—just demands that others listen. "Me first" motivation doesn't serve those who can't return the favor. The "me first" attitude redefines people as props and accessories for our own selfish wants. We look down on those who don't have their lives together. We might even convince ourselves that God is lucky to have us on his team. We might even convince ourselves that somehow, we deserve to have the best seat of honor not just in worldly banquets, but also at God's. Such pride blinds us of the fact that the key currency in God's economy is his unconditional love. We forget about the great equalizer that puts us all in the same category, that earned us all not the seats of honor in heaven, but the hot seat of hell: sin. Because of sin, you and I were entitled to far less than the lowest seat at God's table: we were entitled to no seat at all.
Jesus knew that, too. And yet when he had every right to say "Me first" he didn't. Instead, the King of creation lovingly made himself nothing—and took on the very nature of a servant. He served the sick, the prostitutes, the tax collectors, both Jew and Gentile, and even those who were his enemies. He submitted to sinful authorities. He was put on trial by the proud and arrogant, and then sentenced to a shameful death. The irony of all that is—Jesus became the curse of sin so that you would be free from it. Jesus greatest act of humility is also his greatest act of compassion! Jesus, suspended on a cross among criminals, rejected by God the Father, suffered a death of dishonor and shame for you and me, so that you and I would have a seat of honor at his table! Jesus humbled himself so we would be exalted!
Where you sit makes all the difference—and thanks to Jesus, we're sitting at his table! But don't forget why you're sitting there. I didn't earn that business class upgrade on my flight; neither did we earn a seat at God's table. We couldn't. So, Jesus did. Jesus has conquered sin, death, and hell. The risen Savior now sits enthroned in glory, honor, and praise, and awaits the day that you will sit at his side as his friend at the wedding feast of heaven. In Jesus blood, we see our sins of "Me first" forgiven and find the strength to say "You first" to others. In our relationships with friends, family, strangers, even our enemies, may the selfless, saving love of Jesus be our model and our motivation. We don't need to worry about where we're going to sit. In Christ, we've already got the best seat in the house.
Prayer: Lord Jesus, out of your amazing love for us, you were totally humbled so we would be exalted. Forgive us for our pride. Move us to reflect your humility and model your servant heart to all you put in our lives. In your name we pray. Amen.
---
Teen Devotions are brought to you by WELS Discipleship.
All Scripture quotations, unless otherwise indicated, are taken from the Holy Bible, New International Version®, NIV®. Copyright ©1973, 1978, 1984, 2011 by Biblica, Inc.™ Used by permission of Zondervan. All rights reserved worldwide.
https://wels.net/wp-content/uploads/2015/12/711x400-Devotions-TeenDevotions-1.jpg
400
711
lschulz
https://wels.net/wp-content/uploads/2021/03/WELSnet-Logo-2021.png
lschulz
2022-08-28 01:00:16
2022-08-25 10:33:46
Transformed – teen devotion – August 28, 2022