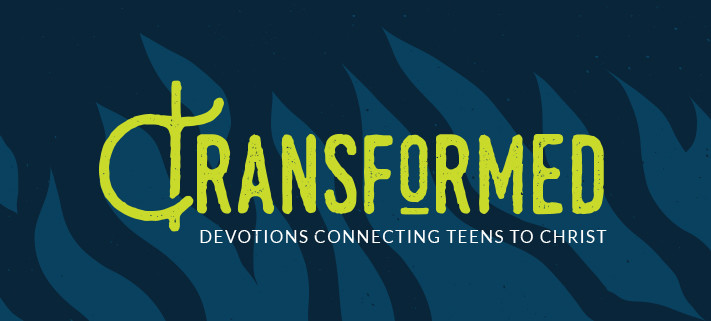 Transformed – teen devotion – April 24, 2022
One truth shared: The reality of Easter brings victorious celebration instead of reserved restraint.
On the evening of that first day of the week, when the disciples were together, with the doors locked for fear of the Jewish leaders, Jesus came and stood among them and said, "Peace be with you!" After he said this, he showed them his hands and side. The disciples were overjoyed when they saw the Lord.

Now Thomas (also known as Didymus), one of the Twelve, was not with the disciples when Jesus came. So the other disciples told him, "We have seen the Lord!" But he said to them, "Unless I see the nail marks in his hands and put my finger where the nails were, and put my hand into his side, I will not believe."

A week later his disciples were in the house again, and Thomas was with them. Though the doors were locked, Jesus came and stood among them and said, "Peace be with you!" Then he said to Thomas, "Put your finger here; see my hands. Reach out your hand and put it into my side. Stop doubting and believe."

Thomas said to him, "My Lord and my God!"

Then Jesus told him, "Because you have seen me, you have believed; blessed are those who have not seen and yet have believed."
John 20:19,20,24-29
Witness Marches Victorious Over Restraint

"You're not going to believe what I just saw" is a phrase that has been enthusiastically shared by many people over the course of time, said by those who have witnessed something so amazing, so incredible, that they feel compelled to share their experience with those not fortunate enough to be present.
That had to be the disciples' mindset on that first Easter evening! Jesus, their Savior—the One they had seen arrested, beaten, and crucified—was standing before them in the flesh. He was alive! He was victorious over death! He was exactly who he had told them he was all along.
But Thomas was not there for some reason. So what did the others do when he came back? They together exclaimed, "You're not going to believe what we just saw!" And he didn't. In fact, Thomas vowed not to believe it unless Jesus also appeared to him and proved that he had risen; he had risen, indeed.
Of course, Jesus did just that. He erased all doubts. He also used the appearance to Thomas to teach us a lesson on what faith truly is, "Because you have seen me, you have believed; blessed are those who have not seen and yet have believed" (v. 29).
Being present that first Easter Sunday night would have been the most incredible event of any of our lives to witness, as the perfect Son of God who just a few days before was dead was now alive in the flesh. The celebration atmosphere would have been evident. The excitement intense. Two thousand years later, it doesn't have to be any more muted.
Christ has died, dear friends. Christ has risen. Christ will come again. We weren't physically there at Calvary's hill or that locked room, but the Scriptures—through the tireless efforts of the Holy Spirit—convinces us that it all happened. In fact, everything that is shared with us in God's Word is written so that "you may believe that Jesus is the Messiah, the Son of God, and that by believing you may have life in his name" (v. 31).
We believe Christ died. We believe he came back to life again. That's what allows us with eyes of faith to look ahead to the time when he will come again to take us with him. Witnessing this truth of our salvation, we confidently move forward to share this truth with others—excited and confident to share what we know and believe!
Prayer: Dear Jesus, while we have not seen you face to face, you have revealed your triumph over the grave to us in your witness of Scripture. Fill our hearts and lives with celebration of this timeless truth and give us a spirit of confidence as we share with others the fact that because you live, we also shall live. Amen.
---
Teen Devotions are brought to you by WELS Discipleship.
All Scripture quotations, unless otherwise indicated, are taken from the Holy Bible, New International Version®, NIV®. Copyright ©1973, 1978, 1984, 2011 by Biblica, Inc.™ Used by permission of Zondervan. All rights reserved worldwide.
https://wels.net/wp-content/uploads/2015/12/711x400-Devotions-TeenDevotions-1.jpg
400
711
lschulz
https://wels.net/wp-content/uploads/2021/03/WELSnet-Logo-2021.png
lschulz
2022-04-24 01:00:47
2022-04-20 13:26:42
Transformed – teen devotion – April 24, 2022