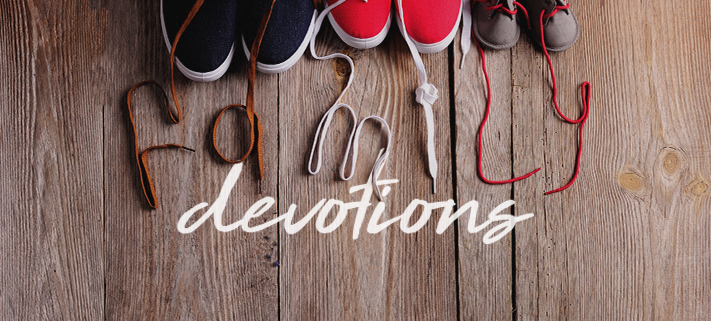 Read: Proverbs 30:4-5
Every word of God is flawless; he is a shield to those who take refuge in him.
Proverbs 30:5
God Protects with His Mighty Power
In the name of the Father and of the Son and of the Holy Spirit. Amen.
Do your parents watch the news on TV? Sometimes it seems like the weather is out of control with devastating tornadoes, earthquakes, terrible snowstorms, hurricanes, tsunamis, and mudslides. In the Bible, we learn that when Adam and Eve sinned, the world started to break down. But the words we read from the Bible today remind us that God is still in control of all of it—the wind, the waters, and all the earth.
Sometimes, a lot of other things seem more out of control than the weather. Some kids are afraid of letting their team down. Other kids worry about their grades, ashamed if they get a "bad" grade. There are a ton of kids who struggle because they don't feel like they have friends. Maybe there's even bigger stuff. Are your grandparents sick? Maybe you are moving across the country or starting a new school? Is your family fighting? Maybe you have worries so big that you haven't talked about them with anyone.
Each one of these can make you worry so much that you get sick to your stomach. That's why it helps to talk to a friend or parent, though. You can almost feel the worries get lighter because you realize you aren't alone, and that's good! Talking to your God is even better. Just like superheroes have a shield to protect them against their enemies' bullets or arrows, God wants to be your shield—the thing that protects you when life is throwing hard things your way. He's the God of the whole entire world, and he loves it when you talk to him. He is your safe place where you feel protected and loved.
As you read the Bible, have family devotions, and pray, remember that no matter how much things seem out of control, your God—who is in control of wind and water—is guarding and protecting you, too!
Closing Prayer:
Dear Father, when I'm scared remind me that you created the world and it is still in your control. Thank you for being my shield and protecting me when I'm afraid. Help me run to you for safety. Amen.
The questions below are to help families discuss this devotion. The questions are divided by age group as suggestions, but anyone could reflect on any of the questions as they desire.
Questions for Younger Children
Name two things that scare you.
What picture can you draw from today's devotion that shows how God protects us?
Questions for Elementary Age Children
Say out loud the top worry in your life right now.
If your worry is like an arrow shot at you, what does God promise to be like in order to protect you?
Questions for Middle School and Above
God is a shield behind which you are safe. Name a situation happening in your life right now where you need his safety.
How is the cross of Christ the ultimate shield of protection?
Hymn: CW 449:1,2 – Children of the Heavenly Father
Children of the heav'nly Father
Safely in his bosom gather;
Nestling bird or star in heaven
Such a refuge ne'er was given.
God his own doth tend and nourish;
In his holy courts they flourish.
From all evil things he spares them;
In his mighty arms he bears them.

Family Devotions are brought to you by WELS Discipleship.
All Scripture quotations, unless otherwise indicated, are taken from the Holy Bible, New International Version®, NIV®. Copyright ©1973, 1978, 1984, 2011 by Biblica, Inc.™ Used by permission of Zondervan. All rights reserved worldwide.
https://wels.net/wp-content/uploads/2020/04/700x411-FamilyDevotions2.jpg
400
711
WELS
https://wels.net/wp-content/uploads/2021/03/WELSnet-Logo-2021.png
WELS
2021-06-30 04:00:08
2021-06-23 15:48:59
God Protects with His Mighty Power – Family Devotion – June 30, 2021